It has a special laminated surface so that it makes all hair-dye stains easily removable. You only need to wipe it off with a wet towel or tissue paper.
Easy to wipe off even after stains dry.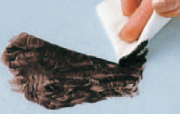 Easy to wipe off!!
It prevents water from getting inside, and also lets any moisture from sweat escape to keep the inside dry.